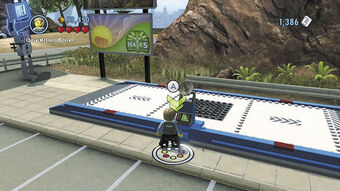 A Call-In Point is a specific kind of Super Build in LEGO City Undercover and LEGO City Undercover: The Chase Begins. Chase McCain can use a Call-In Point to have land Vehicles airlifted to him. There are multiple Call-In Points available in both games.
In LEGO City Undercover it costs 8,000 Bricks to build a Call-In Point, and each Call-In Point built unlocks a new vehicle.
Helipads are another form of call-in point where a Helicopter flies down to Chase McCain.